Apologies for the doom and gloom, dear reader. Now that I've recovered from my post-Sales high (more on which below), the January blues are kicking around like a houseguest who's overstayed their welcome.
Only yesterday, I woke up, while it was still dark. Thinking it odd how refreshed I felt, considering it must only be 2 a.m., I turned on my torch and checked my snazzy new bedroom clock.
Snazzy New Clock: Check It.
**Post Edit: The middle butterfly on this clock had fallen off the wall when I got up this morning, obviously too depressed by the lack of light, to bother defying gravity.**
It was 10 a.m. Now, I know it's winter, but I've lived through three decades' worth of winters and I don't ever remember having to turn the lights on at 10 in the frigging morning. Have millions of dolphins teamed up and pushed the UK further towards the North Pole? I demand to know!
Turning briefly to the Sales frenzy. To mis-quote Mark from 'Peep Show', I did excellent shopping in the January Sales.



I don't normally get swept up by shopping. The hysteria which surrounds the Next sale especially baffles me (for US readers: Next is a M.O.R. clothing & home store and their Boxing Day sale, which starts at 6 a.m., is the closest thing to Black Friday that we have in the UK).
However, this year I appear to be suffering from severe Nesting Syndrome. I seem to remember, approximately 12 years ago, speaking to one of my housemates and swearing that I would never be the kind of person who owned cushions.
I think it is safe to say that my thirties have well and truly kicked in. In addition to the cake stands mentioned in my previous post and Snazzy New Clock, I have bought cake tins galore, some crystalware for the first time ever (I thought it was about time to ditch the 50p Ikea glasses that I bought when I first started flat-sharing) as well as:
But now, the Sales frenzy is over. I'm going to do the 'Tra-la-la, I'm not listening' routine when my credit card bill arrives next week, but I am happy about the fact that most of the above things were on my 'To Buy' list and I got some crazy bargains (interestingly, the best deals were to be had in Selfridges).
It's now time to practice a little austerity for the other two weeks of January, so what else to do but to stay indoors and bake? Bake like your life depends on it!
I knew instantly when this month's
MacTweets
was announced, that I would have to make Black Forest Macs. Black Forest Cake/Gateau was still the definitive fancy cake when I was small. Verified by the fact that along with the raspberry roulade and creme caramel, it always took the top shelf on the dessert trolley at my parent's favourite carvery (I miss carveries).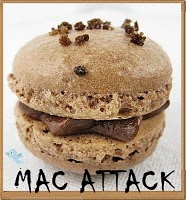 As a kid, it was always a choice between a starter or dessert; never both, as I suffered from Eyes Bigger Than Belly syndrome. I always chose dessert and I always either had a hazelnut chewy meringue roulade thing, or Black Forest Gateau.
Poor old Black Forest had a hard time of it in the UK in the 1980's, mainly thanks to those fiends of affordable frozen desserts, Sara Lee. But I am very happy to see it back on menus (and back in freezer cabinets; I liked Sara Lee cakes). I think we might have Good Old Heston to thank for that.
I knew I had to have whipped cream in these macs, but I also knew that it would make the shells soggy if I wasn't careful.
Putting cherry jam on one shell, ganache on the other and the cream in between, seems to work well enough. Go nuts on the jam seal, though. I only put a thin layer on the first few shells and these were soggy the next day.
I am not going to post the recipe I used for the macarons. It was rubbish; I couldn't get the mix to 'flop', hence the slightly wonky appearance, caused by the little nubbins on each shell. I should've stuck with the Chocolate Mac Daddy,
David Lebovitz
.
The Lebovitz link also gives you the recipe I used for the ganache, except I added 2 teaspoons of Kirsch and used golden syrup in place of corn syrup. Oh, and I used Green & Black's cherry chocolate, which at 60% cocoa content with bittersweet pieces of cherry, worked very well, once I worked out that I neeeded to make the tip on the icing bag wider, to stop the cherry pieces from clogging the bag.
I melted the cherry jam down in a small saucepan and let it cool to tepid before spreading it on the shells.
I let the jam and the ganache cool and set respectively, before piping four blobs of whipped cream onto the ganached shells, then assembled them with a quick dusting of icing sugar.
Now, if I can just work out how to use these macs to garnish an actual Black Forest Cake without getting soggy shells, I might just die and go to Heaven. I bet they get more daylight up there, too. And excellent shopping.
This
work
is licensed under a
Creative Commons Attribution-NonCommercial-NoDerivs 3.0 Unported License