I bought it back in the summer and I've had it on my bedside table for the last few months. It is very much a reference book, although the prose is so friendly, that I usually end up reading a few pages further than intended.
It's a useful book to have to hand, on evenings when you can't quite think what to do with the ingredients you have in the house (hello, pea & rosemary soup).
This was also the case when I realised that I'd got the
MacTweets 14
deadline wrong by -5 days. Two days before the actual deadline. Putting it another way, one hour after the shops had all closed for Christmas.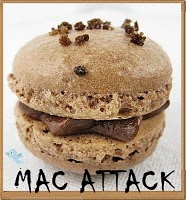 So as well as being sweet & savoury, these are what I shall refer to as Storecupboard Macarons. Orange & fennel works extremely well with the almond already present in the classic macaron.
ORANGE & FENNEL MACARONS
Shells
(Makes 30 2-inch shells), recipe & method adapted from recipe by Tartelette
90g egg whites, aged for 48hours
30g caster sugar
200g icing sugar
100g ground almonds
1/2 teaspoon Valencian orange extract
1/2 toothpick of orange food colouring gel, Sugarflair, Squires or similar.
Buttercream
175g icing sugar, sieved
90g unsalted butter, softened
1/2 teaspoon star anise seeds, finely ground to a paste
1/2 teaspoon fennel seeds, finely ground to a powder
1/4 teaspoon vanilla bean paste
Method
To prepare the macarons,
whip the egg whites to a foam consistency using a handmixer.
Gradually add the sugar until you obtain a glossy meringue and floppy peaks are formed.
Sieve together the ground almonds and icing sugar and add the mixture to the meringue.
Give it a quick fold to break some of the air and then carefully fold and combine until the batter sinks back into itself. The whole process should not take more than 50 strokes.
Fill a pastry bag with the batter and pipe 2-inch rounds onto baking trays lined with baking paper or Bake-O-Glide sheets.
Let the macarons sit in a cool place for 30 minutes to an hour to harden their shells.
Preheat the oven to 150C and bake for 20 minutes, depending on their size.
Transfer the Bake-O-Glide sheets from the baking trays onto wire racks and allow the shells to cool.
If you have trouble removing the shells, pour a couple of drops of water under the parchment paper while the sheet is still a bit warm and the macarons will lift up more easily do to the moisture.
To make the buttercream, beat together the butter (this must be soft, unless you like making life more difficult than necessary) and icing sugar together at a low speed. Once it has fully coagulated, continue beating at a medium-high speed for 3-4 minutes. Add the star anise paste, fennel powder and vanilla bean paste and beat for a further minute.
Use the buttercream to sandwich the shells together. If possible, wrap in parchment and store overnight before serving.
This
work
is licensed under a
Creative Commons Attribution-NonCommercial-NoDerivs 3.0 Unported License
.